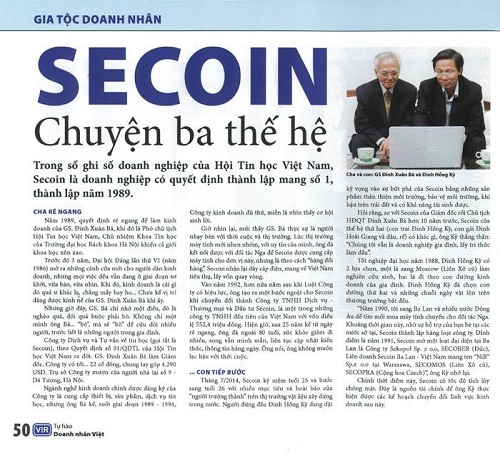 SECOIN – The three-generation story
In Business Record Book of Vietnam Association for Information Processing (VAIS), Secoin has Decision of Establishment number 1, established in 1989.
In Business Record Book of Vietnam Association for Information Processing (VAIS), Secoin has Decision of Establishment number 1, established in 1989.
The father took a new path
In 1989, Doctor Dinh Xuan Ba was the Vice President of VAIS & Head of School of Information and Communication Technology in Hanoi University of Science and Technology. At that moment, he decided to take a new path of doing business, which created a huge stir among the scientist community.
Three years earlier, the 6th National Congress of the Communist Party of Vietnam made a major reform as Vietnam started to open for people to do business. However, at that moment, everything was just at the beginning state. Doing business was considered to be something strange and not so appealing to everyone… Not to mention about Dr. Dinh Xuan Ba's respected position
However, to this present day, Dr. Dinh Xuan Ba only remembers one thing: hunger and poverty pushed him to move forward and take up the opportunity to start a business. He wanted to save people around him out of poverty cycle, firstly his family members.
Services and Consulting Information Company (short for SECOIN) has been established under Decision number 01/QĐTL of VAIS. Dr. Dinh Xuan Ba was the first General Director. SECOIN had… 22 shareholders, who gathered an initial fund of 4,290 USD by then. Company's headquarter was rented from a family member and it was located at 9 Da Tuong Str., Hanoi.
SECOIN mainly supplied equipments, products, and services of Informatics. However, as Dr. Ba said, during 1989 – 1994, the company traded everything as long as they were profitable.
Now, looking back, we can see that Dr. Ba has a very sensitive mind with new opportunities and condition of the market. When the computer market was only in beginning stage, with his reputation, he was able to connect to Russian partner who let Secoin supply computers for his company in bartering method. Secoin received electric cables in return. Dr Ba then sold them in Vietnam in order to take revolving fund.
In 1992, 6 months after Company Law was in effect, he made a turning point for Secoin when changing it to be SECOIN Trading, Services and Investment Ltd. SECOIN Became one of the first Limited Liability Companies in Vietnam. It had a charter capital of 552,400,000 VND. After 25 years since starting his business, he is now over 80 years old. Even though his health has declined much, his mind is still sagacious. He continued researching and updating his knowledge. No matter what, He does not want to be backward with the present.
...the son continues his father's path
in July 2014, Secoin has celebrated her 25th year anniversary and moving to the 26th one with many goals and visions as a leading company of building materials in Vietnam. SECOIN's CEO – Mr. Dinh Hong Ky is expecting on a breakthrough of environmental-friendly products. These products help to protect the environment and earth's climate.
If comparing between SECOIN of 10 years ago under General Director and Chairman Dinh Xuan Ba and SECOIN of the second generation (the son Dinh Hong Ky, the daughter Dinh Hoai Giang, son and daughter in law), Mr. Ky said: "We are still a family business, knowledge is our way of business".
Graduated from university in 1988, Mr. Dinh Hong Ky had two options, one was going to Moscow (formal Russia) to be a post-graduate, another was to take up his family's business. Eventually, Mr. Dinh Hong Ky chose the 2nd path and began his struggling days on the business field initally.
"In 1990, I came to Poland and many Eastern European countries to look for computers to supply to Russia partner. During this time, with the help from many friends living in those countries, Secoin had established many companies. 1991 was the peak whereby Secoin had established several representative companies in Poland such as Sekopol Sp. z o.o Company, SECOBER (Germany), Joint venture between Poland and Vietnam named "NiB" Sp.z o.o at Warszawa, SECOMOS (formal Russia), SECOPRA (Czech Republic)" – Mr. Ky said
During that time, Secoin had fast growing in capital. This was the needed capital for Mr. Ky to change business line afterward.
It is not hard to see that Dr. Ba has passed his passion in business to his son. This passion has helped Mr. Dinh Hong Ky to overcome many obstacles in almost 3 decades to develop SECOIN.
In 1994, Mr. Ky and Dr Ba planned to develop the building material industry. At that moment, the market had just begun to form. Demands for building material was growing exponentially. At first, Secoin only focused on supplying machines and equipments for domestic usage. SECOIN was also the representative for 25 famous brands such as Ocem (Italy), Rometa (Spain), Masa-Handuk (Korea) etc
In 1997, Mr. Ky brought the required technology to produce terrazzo tiles into Vietnam. He also carried out technology and equipment transfer to about 50 factories in Vietnam. Secoin has then been recognized by Ministry of Construction as one of the first contributors to non-burnt building materials in Vietnam.
During that period, Secoin quickly reinforced its reputation and capital by equipment trading.
Secoin opened terrazzo factory at Cau Dien (Hanoi). In 2000, Hanoi People's committee chose Secoin's terrazzo tiles to be used for many important constructions during Thang Long 990 years anniversary: Indra Gandhi Garden, Lenin Park and pavement around Ho Guom Lake. Mr. Ky said he had to gather about 30 signatures in order to bring his tiles to these important projects.
Afterward, Secoin encaustic cement tiles, roof tiles…continue to appear in the market. Especially, encaustic cement tiles become a huge sucess. Mr. Dinh Hong Ky has been recognized as the preservationist of Vietnam's traditional cement tiles. Secoin has become the leader in manufacturing cement tiles, which have been exported to 45 big markets all over the world.
Story of the successors
Today, as the Chairman of the Board of Directors and General Director of Secoin Building Material Corporation (Secoin), Mr. Dinh Hong Ky is on his successful phase but he has already planned ahead for the third generation.
Mr Ky was assigned to the CEO position after 6 years of SECOIN's establishment. In 2000, he took the position as the Chairman of the Board of Directors to let his father dedicate all his time in doing research. Mr. Ky has always followed his father's path, using family values , knowledge and humanity as the core of business . Mr. Ky said "My children's generation is way different from my generation, and even more different than my parents' generation. I could not force my children to follow my will. However, What I am doing right now is to give them the best possible education environment and to teach them to preserve and cherish the values of our family business".
His father allowed him to choose his path. He also allows his children to decide their future. However, Mr. Dinh Hong Ky ought to have hope for the third generation.
Just as Mr. Ky said, the success of the business is not only about taking over the business, but also reserving and developing family's culture, business's culture and to let Secoin grow more strongly in this "flattened world".