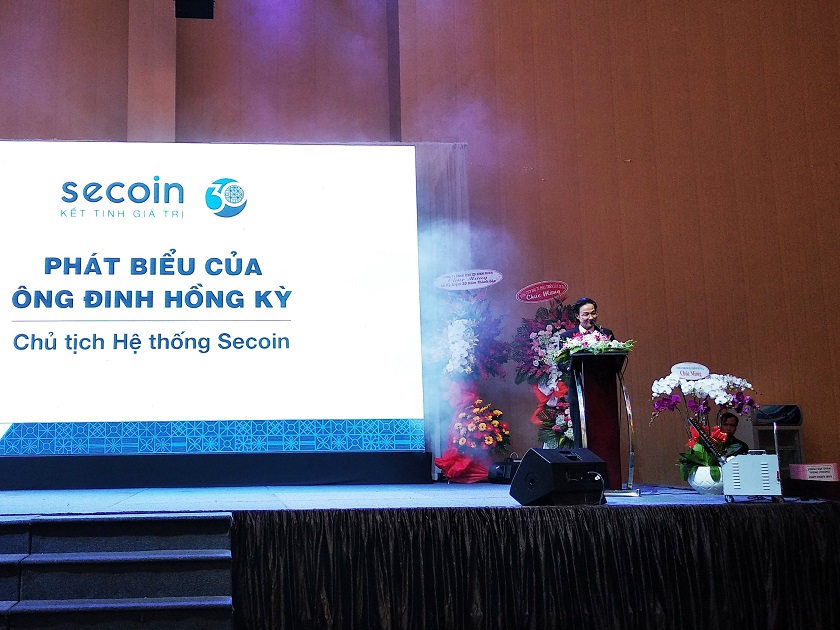 SECOIN CHAIRMAN'S SPEECHES AT SECOIN'S 30TH ANNIVERSARY
Professor Dinh Xuan Ba and Mrs. Dinh – founders of Secoin,
Our distinguished guests from governmental and municipal organizations,
Our business partners, relatives, friends, former Secoin staff and current Secoin staff attending this anniversary.
I am Dinh Hong Ky, Secoin's Chairman. On behalf of nearly 1,000 staff of Secoin, I am very honored to welcome you to our ceremony celebrating the 30th anniversary of Secoin's foundation.
Ladies and Gentlemen,
Starting our business in Hanoi 30 years ago as one of the first liability limited of Vietnam, Secoin had to cross "the rivers without bridges" by our own courage and intellegence. The years of difficulties had built up Secoin brand – a brand that captures the values of intellectual, technology, nature, humanbeing, history and culture.
This day 30 years ago, with the amount of investment capital of only USD4,290 contributed by 22 shareholders, the shareholders back then could not imagine that Secoin Company would one day possess a system of 3 big offices in Hanoi, Da Nang, Hochiminh City and 8 factories all over the country and a distribution network in 60 countries over 6 continents.
To gain the achievement of the last 30 years, on the solemn ocassion of this ceremony, on behalf of Secoin's Board of Directors, I would like to express my gratitude to:
I would like to sincerely thank the Founder of Secoin – my father, Professor Dinh Xuan Ba and my mother – Engineer Doan Thi Tuyet Nga and members of my family, my collegues at Secoin for making Secoin to be the pioneer at all time: Being the pioneer in Vietnam in making concrete block on modern technology and equipment; Being the pioneer in bringing the first terrazzo tile from Italy into Vietnam more than 20 years ago and this product is currently being used in all 63 provinces of Vietnam; Being the first company to bring into Vietnam the concrete tile wet press technology from Japan, which is used by nearly 100 factories in Vietnam nowadays; Being the company who recovered the encaustic cement tile tradition of Vietnam from 1910 and exported this product to all over the world.
I would like to thank hundreds of former staff who used to work for Secoin during the past 30 years and nearly 1,000 staff who are currently working and contributing to Secoin. You are the key factor that enable Secoin's existance and stable development during the past years. You have turned a small company into a leading manufacturer in our field in South East Asia.
I would like to express my thanks to more than 500 encaustic cement tile artisans who are working day and night in Secoin factories in all the 3 regions of Vietnam to preserve Vietnam's encaustic cement tile tradition which at times were thought to disminish and who have made Secoin to become the world's biggest brand for handmade artistic tile.
My sincere thanks to more than 50 busines partners, who are non-fired building material factories and companies for your trust in Secoin as a supplier for equipment and technology. Thanks to your support, Secoin has been considered by the Ministry of Construction and Vietnam Building Material Association as the creator of Vietnam non-fired building material industry.
I would like to say thanks to more than 800 business partners in 60 countries over 6 continents for using Secoin products. With your trust in us, Secoin has been considered by the Mininstry of Industry and Trade as the company with the highest number of foreign customers and Secoin has been recognized by the government as the National Brand of Vietnam continuously from 2016 to 2020.
I am thankful to 1,000 dealers all over the country and developers, contractors and partners who have been going together with Secoin during the last 30 years. You have helped Secoin products to be present in almost all important and splendid projects of our country.
I would like to thank Secoin's suppliers for equipment, technology, raw materials and service such as transport, banking,…, production management consultants from Panasonic Japan who have been by our side to go ahead into the future.
I am very grateful to government bodies, management authorities and concerning organizations who have given favorable conditions to Secoin in all our business activities through out the last years.
And finally, my thanks to all of You, especially the guests who travelled a long way from Japan, Norway, Canada, for being here with us in Secoin's important anniversary ceremony today.